• Forward your confirmation emails to trips@tripcase.com and we will import your trip details for you. Just make sure that the email you are forwarding from is the same email that is associated with your TripCase account .
• If you booked your trip with a TripCase affiliate, your trip should be imported automatically to your account.
• You can manually add events and linked bookings to TripCase:
To add a new trip event select Add Item from the sidebar in your trip?
Then choose your event type and enter the information.
You can add a variety of events such as flights, lodging, car rental, meetings and restaurant reservations.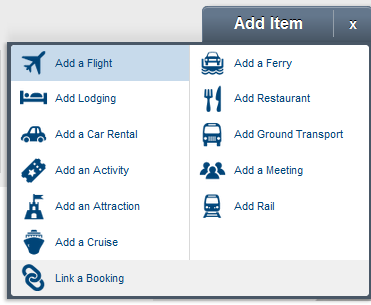 • To link an agency booking, click on Link a Booking and add your six-digit record locator and passenger name. Unlike trips created by forwarding a confirmation email, linked bookings are updated constantly.
Note: Please forward us the entire confirmation email you received from your travel agent, airline, etc. We cannot update accounts with confirmation codes or reservation numbers alone. Also, the entire confirmation message must be forwarded from an email address you have registered and verified with your TripCase account.